As well as all the walking, while we were away I :
Finished Carla. I know I promised more today, but there are issues. Firstly the weather, it sucks. Secondly the sweater, it's stretched. Carla needs to be washed and semi blocked into shape again before I take more photos. I am quite pleased with how Carla turned out, this is my first adult sized sweater with sleeves and I have already worn it out in public (well in the bush). However (didn't you just know there was a "but" coming?) this stitch pattern is super stretchy so, despite the fact that I knit the size for exactly my bust measurements, if I were to do it again I would knit it at least one, if not two sizes smaller. That said, the Raglan armholes fit me perfectly and the sleeves fit pretty well too, so I would actually have to do something tricky with the sizing to get a better fit. Also the sweater seems to get shorter and wider with wear. The wider part I accept as being a fact of life with 100% cotton, but the shorter part I was not expecting. I suspect I will wear this sweater as often as I can allowing for the fact that I may need to wash/wet it between every wearing. Finally, such a loose knit pattern is SNAGGY. Obviously bush walking is not the most sensible place for a hand knit but the worst pull so far came from walking through the doorway to Isabelle's room this morning, which I do a whole lot more of than bush walking. On the upside the snags heal quite easily.
Swatched and started knitting Isabelle's Poncho. She is very excited and wants to wear it now RIGHT NOW, needles and all. I am going to need a fourth ball I think. 3 balls did seem a bit hopeful to me when I was buying it, but I knew i would be getting onto this one quickly and don't expect there will be any trouble matching dye lots so soon after the initial purchase.

Bought yarn to make a Stonington Shetland Shawl from Knitting Workshop by Elizabeth Zimmerman. There are babies on the way all around me at the moment, which is a fine excuse to knit a shawl or two if you ask me.

Was given Incredible Quilts for Kids of All Ages. This book has a number of cute animal quilts and an incredibly sweet set of Big Sister/Little Sister or Big Brother/Little Brother quilts which can obviously be mix and matched to make Big Brother/Little Sister or Big Sister/Little Brother. Should we ever manage to produce a sibling for Isabelle I will be sorely tempted to make a pair of these quilts.
Borrowed Quick Quilts to Make in a Weekend. There are three quilts in here that I really like. One of them that I am absolutely in love with.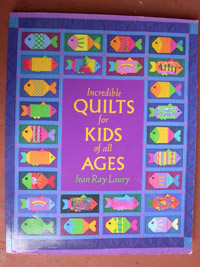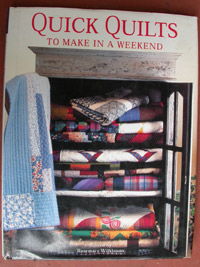 It was really quite a packed weekend.
Comments Off