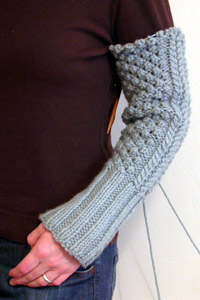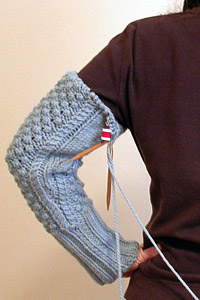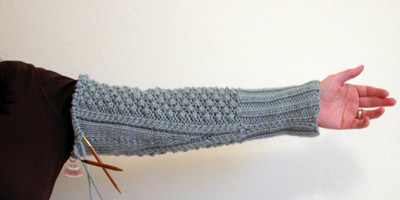 My inexperience is getting the better of me. This is my second sweater with sleeves, well there was a baby sweater but they really don't have the same fit issues as sweaters for adult shaped bodies. To be honest the stitch pattern for Carla is so outrageously stretchy that it did not provide much experience in getting the right sleeve fit either. So this is where I am, knitting my first serious adult sweater, first cabled sweater, first time using such bulky yarn, first time using this particular yarn, first, first, first….
I blocked the sleeve (as in washed and laid flat to dry on a towel, there were no pins involved) and it fit better than it did prewash, the ribbing definitely does not need to be any bigger. I decided to keep knitting. I am now ready to start the raglan decreases and it still fits, sort of. I am not sure whether to finish the sleeve or rip back. I just don't have the knitting experience to weigh up the issues and make the right guess. What are the issues?
1) This is a chunky sweater with a whole lot of design ease in the body - will the arms look strange if they are too close fitting?
2) This is a chunky sweater, and Jenna's explanation of why heavier yarn requires more ease to get the same fit as a lighter yarn makes a lot of sense to me. I have other sleeves that fit like this one and I am perfectly happy with them, my feeling is that the fabric being so thick is what makes the fit of this sleeve seem not quite right to me.
3) I have no idea how much this sweater is going to stretch with wear, if it is only a tiny bit, well it probably won't be enough, but anything from moderate to significant stretching will make it quite a nice fit.
4) I think I do want a bit more ease in the arm that I have at the moment (pre any stretching that might be provided by point 3) but I absolutely don't want it over sized or puffy either.
Can I say again how much easier a decent photo of the design in the pattern book would have helped with both choosing and knitting this sweater?
I think the only solution here is going to be to finish this sleeve, seam it in and then depending on how it fits possibly knit the second sleeve differently and see how that fits before reknitting one of them to match the other. Post blocking I can see that I definitely don't want to add 4 more stitches to the ribbing as I had previously thought. At the moment I am thinking that if I were to modify this sleeve I would be knitting the ribbing as per the pattern, knitting the increases much faster than the pattern suggests and then possibly adding one or two more increases a bit further up. The question is, how to then get rid of those extra stitches so that the raglans all match up correctly.
Updated to add: I wrote this before I took the photos. The sleeve was fitting better by the end of what seemed like an endless attempt to get a decent photo in poor light. So I am currently feeling like it is worth the effort to finish this sleeve and assemble one side of the sweater before making any rash decisions. At least it's an easy one to seam….