Grace Charlotte born today at 4:45pm. More at littlefeet
I am still here, waiting. In the meantime I have been remarkably productive on the blog maintenance front. I have upgraded my blog software and made a bunch of changes in a effort to further limit the time I spend combatting spam. As well as continuing to run Akismet I have (I think) completely disabled trackbacks on all posts and made it so that comments on old posts will close automatically after 30 days. If you notice anything odd happening as a result of this twiddling, do let me know.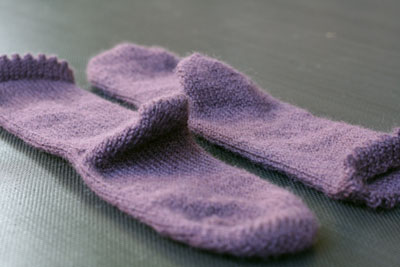 Pattern: based on Wendy's toe up sock pattern, with a picot trim
Yarn: Jo Sharp Alpaca Kid Lustre, shade 855
Needles: two pairs 4mm Addi Turbos
This really is the end of my pregnancy knitting. I think. I guess I may knit more, but this is the last thing that needs to be finished before the baby comes. Which is just as well as I am 38 weeks and not looking likely to get to 40 (though anything could happen, and usually does).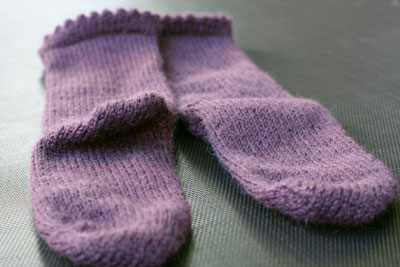 I have to say that this is yet another finished object I like so much that I am reluctant to give them away. I really have lucked out on the FO happiness front this pregnancy - everything has basically just worked, often far better than I expected. These socks are soft and delicious to touch and being a heavier weight than I have used for socks in the past they flew off the needles. It made for happy knitting, finished in time. I just hope they fit.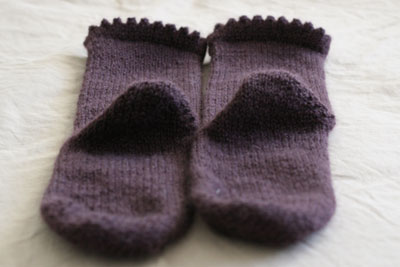 The biggest issue I had making them was sewing down the picot trim. Once I had finished the second sock I realised I had sewn down the first sock one row shorter. The second sock was far nicer and they didn't match so it had to be fixed, not the funnest job, but even that went fast with only 42 stitches to the row.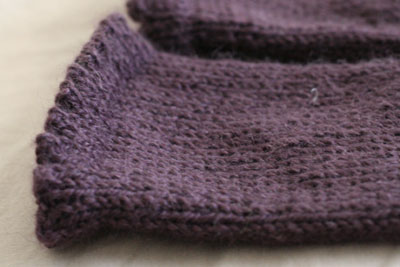 I had quite a few thoughts I would once have blogged about along the way as I knit these socks, but my iphoto is still out of action, which makes getting photos off the camera painful. And, well, I am drifting along in a late pregnancy haze these days. I kept thinking I would blog about them soon and then they were done. I am so busy thinking about my belly that everything else seems to sneak up and take me by surprise. Still my apologies that this has become more of a FO blog than a knitting blog.