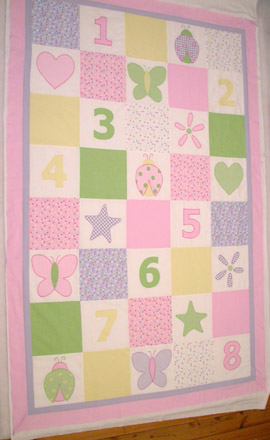 I know that this is still not knitting, the knitting is coming, eventually. In the mean time I have finished this months book-keeping, made good in-roads on the web development job and tonight I have spent an hour or so on my knees with 170 safety pins and am happy to say that I have basted the layers of Isabelle's quilt together.
I tried doing some of the quilting and it didn't go so well. The good news is that I am confident I will actually be able to sew straight lines. The bad news is that the 2″ by 2.5″ table I work on is woefully inadequate as a workspace and Jan was right, the top layers are bunching up, so tomorrow I will see if I can get a walking foot for my machine. I don't know how I am going to fix the workspace problem though…
And now for the question. I am planning to stitch in the ditch around all the squares and the seems between the borders. I am then thinking I will go round the edges of the appliques and make similar shapes in the plain squares for decoration. The question is - can I put the binding on once I have done the stitch in the ditch along all the seams, but before outlining the appliques? I am worried about time you see. I have to have this done by Sunday week and I figure I can give it to Isabelle without the appliques outlined (and fix it later) but I can't give it to her unbound…
If you have any other tips of the quilting and binding processes please feel free to share, I suspect I will need all the help I can get.