Who would have thought something as simple as salt could work a health miracle? 2.5 weeks ago when my neurologist told me not to do any cardio vascular exercise, drink at least two litres of water a day and to eat as much salt as I could get down I was a) amused and b) skeptical. It's not like I was able to do any exercise anyway and I was drinking plenty so really she was saying "Add salt". Retrospectively the woman is a genius. The effect of the salt was almost instant, though you can imagine the lecture I got from the pharmacist when I went in to buy salt tablets. I feel like a different person. I still have bad days but my bad days now are like my very best days before and on the good days I can do as much as any pregnant woman might expect to get done in a day. The dishes are done, the house is clean and I am actually doing the book keeping I get paid for. Oh, and I am even knitting. Still nothing like I used to, as I am pretty wiped out come evening, but look: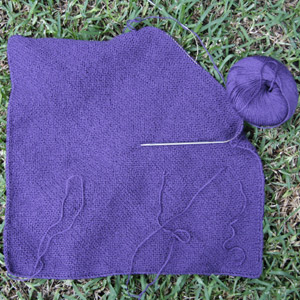 It might even turn into a shawl soon enough for more baby objects to be completed before the birth! I doubt I will return to my regular knitting and blogging habits any time soon, but hopefully I will post a bit more than not at all between now and July. Thank you all so much for your kindness when I threw my hands in the air and declared that all blogging would cease, it's very nice to be wrong.
In other news we had our 19 week ultrasound today and baby is happy and healthy. It's happiness all around at the moment.