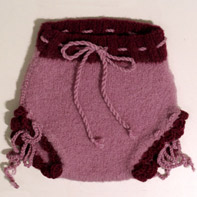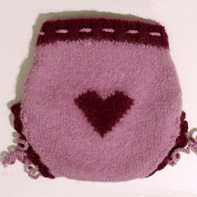 Pattern: Tiny Birds Soaker. Heart from Bikini pattern in Stitch'N'Bitch.
Yarn: Lincraft Cosy Wool 8 ply.
Needles: 4mm Addi turbos and the only metal crochet hook I own (no idea what size it is).
Adding the trim to this thing was a complete pain in the proverbial. The pattern said to add the leg edging after "partial" felting. My soaker has come out the exact size I expected but it seems quite a bit more than partially felted to me and the only way to get a crochet hook through it was by drilling holes with a needle first. I also thought it looked cuter without the ties but have stuck with them as they will probably be necessary… I don't think I will be making any more of these until this one has been tested, but if it works out I will definitely make a bunch more - if I have time.