Sorry it has taken so long to post a pic of my Leftovers Vest. The whole car thing has been turned on it's head by our accountant going on leave right when we need him and his partner giving us completely the opposite advice to what he (and everyone else) has told us. I hate uncertainty. My fertility treatment is becoming outrageously time consuming (after the usual 7:30 am blood draw and ultrasound this morning I have also ended up seeing another Dr at lunch and have another ultrasound appt this afternoon), and again I have to say how I hate uncertainty. To add insult to injury, all this activity combined with a general lack of sunshine means I have been unable to get Jesse to take a photo of me wearing the Leftovers Vest. I also hate bad photos but in an act of desperation I tried again with the bedroom mirror and this was the best I could do. I will try to post a better photo one day soon.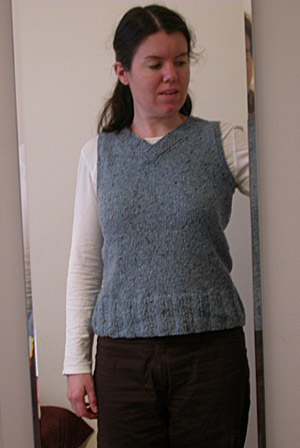 Pattern: Leftovers Vest - Knitty Winter '04
Yarn: Jo Sharp Silk Road Tweed DK in colourway "Boheme"
Needles: 4mm, 4.5mm and 5mm Addi Turbos
This vest was easy and fun to make and is perfect for the weather we are having right now. I have a 36″ bust and made the recommend size (the second one). My gauge was spot on, post washing finished measurements were exactly what they should have been and I am fairly happy with the fit. I think it is perfect in the bust but would think about more waist shaping if I made another one. I certainly think I will be wearing this a lot.