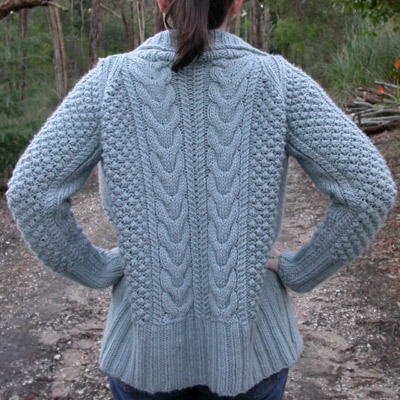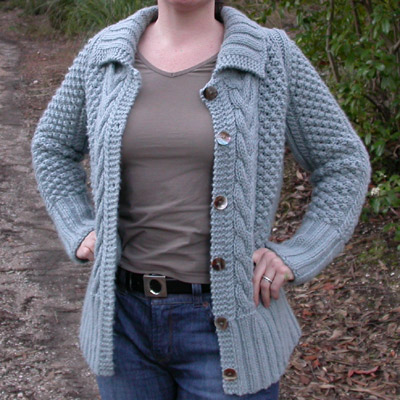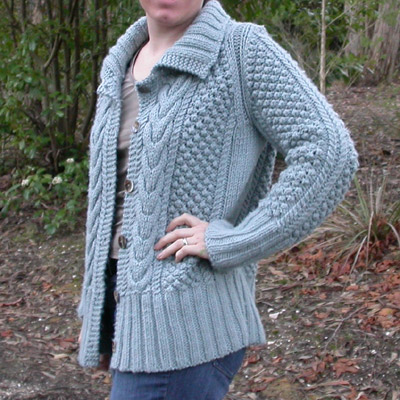 Pattern: Cabled Jacket by Debbie Bliss from The Cashmere Collection
Yarn: Jo Sharp Silkroad Ultra in Seafoam
Needles: 6.5mm Crystal Palace bamboo circular
I am sorry these photos were so long coming, trying to co-ordinate a second pair of adult hands to take the photos, decent light and a reasonable background has been challenging to say the least. A pilling problem added to the mix only made things worse. But here they are at last.
I have to say I love this sweater, it is so warm and cosy and fits so well. I kept finding excuses to wear it in Sydney, despite it's being completely inappropriate for the weather, and I have hardly taken it off during the week since arriving in Adelaide. For all that I love this cardigan I have to say that it has a rather serious pilling problem. I had to scrape this ball of fluff off it this afternoon before taking these photos.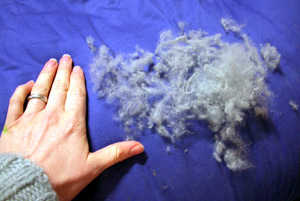 So, my notes on the Debbie Bliss Cabled Jacket - think about using smaller needles and probably steer clear of Jo Sharp Silkroad Ultra. The pattern calls for a 7.5mm needle and I have used a 6.5mm, however the design is much more fitted in the arms than the body so I nearly ran into trouble with the arm scyes. I think the 7.5mm recommended in the pattern is too big for my taste/size but as happy as I am with my sweater a 7mm may have been a better choice than the 6.5mm I used. The Jo Sharp Silkroad Ultra is lovely to knit with and beautiful to wear, but given the degree to which it "relaxes"* with the first wash and the pilling I don't think I will be using it again, for anything. I know that Steph used Rowanspun Chunky for her Cabled Jacket and I don't believe she has mentioned a pilling problem so I would probably think about using that if I were to make another one. And finally, I would also knit a longer collar. My collar is the suggested length and yet it seems somewhat shorter than I was expecting. I would probably unpick this one and knit a couple of inches more if my remaining yarn weren't cut up into small pieces.
*To say that Jo Sharp Ultra "relaxes" is something of an understatement, if you do use it make a big swatch and block it because your gauge will change.