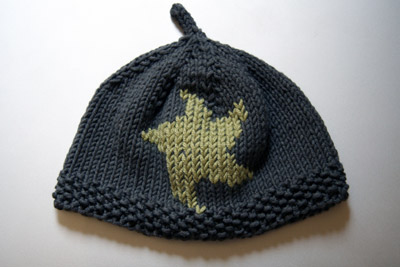 Pattern: Loosely based on the Debbie Bliss Simple Hat, different gauge, in the round, with a moss stitch band. Star from Knitty's Hipster pattern.
Yarn: Hat in Rowan All Seasons Cotton "Dim". Star in Debbie Bliss Cashmerino scraps - shade 340503.
Needles: 4.5mm Addi circs, 4.5mm Bamboo DPNs
Thanks for all your kind words on the first star/frog, unfortunately it didn't look enough like either of those things to leave it as it was. As is so often the case Knitty came to my rescue with a chart for one very cute star. Plastic needle in hand I managed to have some semi knitting fun on the plane to Hobart Thursday night, I finished it off in the hotel room while Jesse was out hunting for some dinner. Using a finer weight yarn for duplicate stitch is less than ideal and there are some brown bits peeking through but I am happy enough with the result.
This is a wonderfully simple hat pattern, easy to churn out and a very cute result. However, I am still struggling with the question of how much hat to knit before starting the decreases, I think this one may be a little short, and yet it seemed so alarmingly long at the time. I think I may try for 11 or 12cm next time. And yes I am sure there will be a next time! I am starting to wonder if baby hats are more my thing than socks.