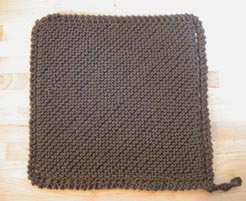 Pattern: Grandmother's Favourite
Yarn: Jo Sharp SoHo Summer, colour #225 "Uber"
Needles: 4mm Addi Naturas and 2 4mm Addi Bamboo DPNs with stoppers
Thursday evening, just as I was finishing the seaming of the Phildar Hooded Jacket, we received an invitation to a friend's 35th on Saturday night. Having managed to secure a baby sitter I cast on for this wash cloth during Isabelle and Ella's nap on Friday, knit some more in the car on the way home after picking up Jesse from work and completed it during some TV knitting that night and one last hour yesterday afternoon.
It was fun knitting something so quick and easy. I learned yarn over, practiced the slipped stitch garter selvage and all up I am happy with the result. As you can see it needs a little blocking as the increasing half has tighter edges than the decreasing half, I would try to loosen the increase edges in the future but I imagine it would block out. Unfortunately I was unable to block this one as I finished it only hours before handing it over. It was only as we were in the car on the way to dinner that I realised I could have steam blocked it with the iron, never mind it is only a dish cloth!
My only real problem with this project was excruciating cramp in my right pinky and ring finger from using 4.5mm 40cm circs. The actual needles are shorter than the width of my palm and I was clearly doing something strange with those fingers to compensate for having nothing to hold onto. About halfway though the washcloth I gave up on the circs and tried this instead: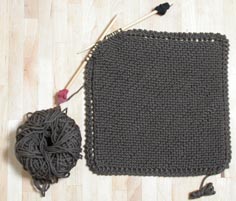 Yep, that's DPNs with makeshift stoppers - ugly, but so much easier to work with. Isabelle was very impressed when she saw them and wanted them for herself.