I received an sms on Wednesday morning to let me know that my cousin Michelle has had her baby - a little boy by the name of William Isaac, who is to be known as Will. I took a moment to be grateful that mother and baby are both well and then went into a finishing frenzy. Buttons were purchased, trim was applied and here you have it - one Phildar baby hoodie.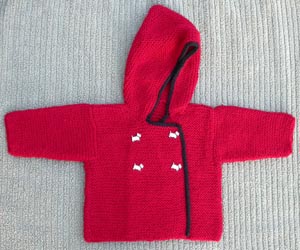 Pattern: Pattern #10 "Paletot" from Phildar Magazine #413 - Layette Autumn/Winter 2004/05
Yarn: Heirloom 8 ply "Merino Magic" in colour #202 (Red) and Heirloom 8 ply "Easy Care" in colour #765 (black)
Needles: 5.5mm Addi Turbos, 5.5mm Tulip babmboo circs
Gauge: 10cm = 18 stitches by 40 rows in Garter Stitch
This is my first sweater and I am quite pleased with it. It was all very straight forward and easy and though I didn't love the Heirloom Merino Magic yarn to knit with, it is soft and I think the end result looks quite nice.