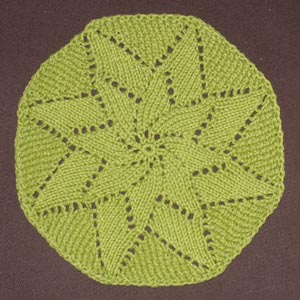 Pattern: Yvonne's Double Flower Cloth
Yarn: Cotton Fredom, colour #11 (green)
Needles: 4mm Addi Bamboo DPNs, 4mm Addi Naturas
Umm, the green is not quite so GREEN in person, green yarn seems to photograph particularly badly. The 40cm 4mm Addi Natura's and I are developing a love/hate relationship. They are the perfect size for this sort of project and quite nice to use - apart from the part where my hands ache for hours afterwards because they are just too short for my hand. Ouch. No more cotton knitting for a few days I think.