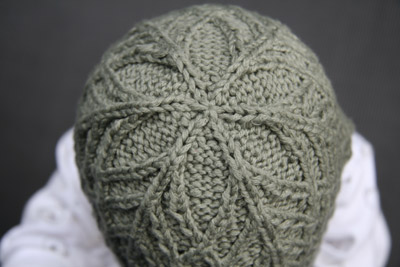 Pattern: Shedir - Knitty Fall 2004 Surprise, modified to fit a newborn.
Yarn: Rowan Calmer in Khaki
Needles: 3.25 Addi Bamboo DPNs
It worked! If I didn't have a raging cold I would be doing a happy dance right now. I cannot believe how cute this baby Shedir is - if only I had a baby handy to model it (I am running into this problem a lot lately). I tried it on Baby Born, but as you can see it swallowed her head whole.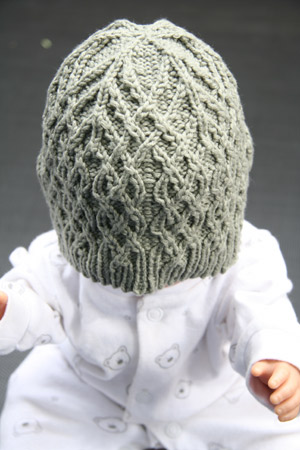 If I recall correctly real babies have much larger noggins.
This was a really easy modification. I used six rows of ribbing instead of nine, only six pattern repeats in each row instead of eight, three repeats of the main cable pattern instead of five and then dropped all the knit straight rows between decrease rows once the cables were done. My scale is only accurate to 2 grams and keeps flicking between 24 and 26 grams, I am hoping that makes it exactly 25 grams and that I might get two out one ball - because I need to make more.