Yesterday was my knitting class, apart from the ongoing problems we seem to be having coordinating my class attendance and Isabelle's bedtime it went much better than last week. Last week you will recall Jesse called me half an hour early asking where I was and the teacher seemed kind of rude. This week I got home on the dot of 8:30 and found Isabelle was still eating dinner! The class was great though. There were less students, which always helps, but I was at a much better point with my projects to feel like I was really learning something. I learned to use DPNs: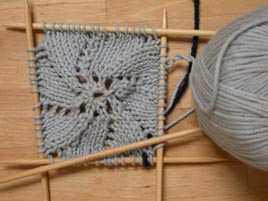 Quite possibly I could have picked this up from a book or the internet like everything else but I have to say that this is one thing I was very glad to learn from one-on-one, in person instruction. I could be wrong but it seems that using DPNs is made harder than usual by my particular style of continental knitting and I would not have liked to figure out how to manage all those needles on my own. The other thing I learned last night was how to make icord. I know I have instructions on how to make icord in most of my books but something about it fuddled my dyslexic brain, turns out it was so simple any idiot could do it!
In other news I have been making progress with my Booga Bag.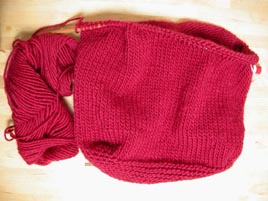 I haven't been working that hard on it, mostly because I won't be sure where to put the stripes until my contrast yarn arrives and I don't want to find I have to rip back to get the effect I want. My other reason for being so slack this week is that my right forearm has been achy. I think the achy-ness is in part due to having some sort of virus at the moment, I have been a bit achy all over. However, the right forearm is definitely worse than the rest of me and I blame those 40cm 4mm circs I used to make the brown dish cloth. Now that I know how to use DPNs I don't see myself ever using those needles again. I will order a longer 4mm circ sometime soon, which will presumably have longer needles and be more usable.