Isabelle and I went to one of our favourite parks today. She was very patient while I had a good long walk and I was very patient while she climbed trees.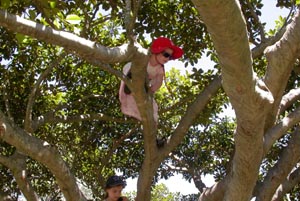 I wore Kate.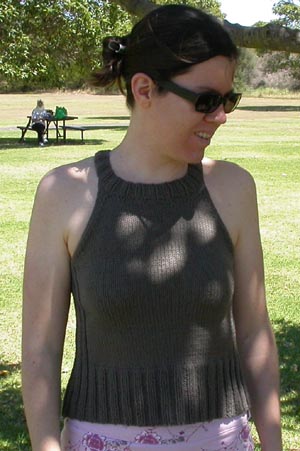 Pattern: Kate - Phildar #406 / Printemps 2004 Familie
Yarn: Rowan All Seasons Cotton in "Dim"
Needles: 5mm Addi Turbos
The blocking went well and provided just enough extra length that I will leave it as is. I am very happy with how this turned out given that it is the first piece of clothing I have knit for myself and I will definitely wear it, but probably not that much for reasons pertaining to sunblock and bras. I knew it wasn't practical when I decided to go ahead and make it. Denial is what gets us through the day, an old friend of mine often said.