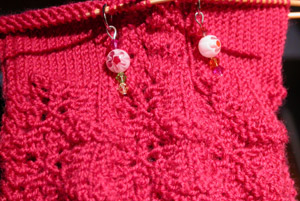 Would you look at that, two more repeats of the leg. I was going to ditch this sock, try a different pattern with the other ball and then rip this if I liked the second option better. Just goes to show that sometimes it is worth trying once more before giving up. I am getting gauge (hooray!), so I suspect that it is not going to fit. I realise it's hard to imagine, but I know a few women with bigger feet than me and they are on my Christmas knitting list so if it doesn't fit I do have options.
This yarn is so darn hard to photograph. My camera really doesn't like the colour and I haven't the faintest idea how to help it cope. I wish I could get a close up of those tiny stitches, they are so small and so regular that I find myself chortling stupidly to myself every time I stop to have a good look at them.
Oh and aren't these markers pretty? They match the sock quite nicely don't you think? Thanks again Jen.
And finally, for those of you who are interested my egg pickup will be Wednesday lunch time, turns out this IVF thing is for real. We should hear whether we got a house we just applied to rent around the same time. Big day Wednesday.