Today Jesse and I went to see my reproductive immunologist, not to discuss why I wasn't getting pregnant, but how to stay pregnant. Pretty exciting stuff. Except for the part where it took all day. This guy's practice is, shall we say, far from home and when we got there we discovered that I had the time wrong and we were two hours early. TWO HOURS. He then ran two hours late. That's right people four hours waiting for the appointment*.
Just as well I had planned for a little waiting and fetched out my recently purchased logs and two balls of Rowan Big Wool to keep me company. I cast on in the car. I guess I got nearly one repeat done on the way. The first repeat took me a lot longer than the rest, partly because I was learning the pattern, but mostly because it just felt so weird to be flapping around 12mm straights after tiny little 2.25mm DPNs!
Not long after we had moved from the doctor's reception area to the hosptial's cafeteria** I realised I better document my progress.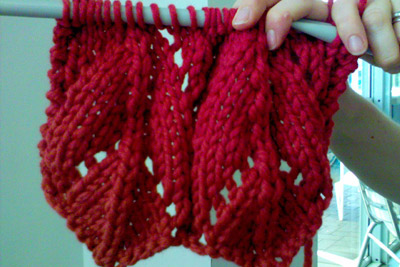 Little did I know how glad I would be that I packed both balls of yarn, because what you see below was the end of the first ball and we were only half way through the wait.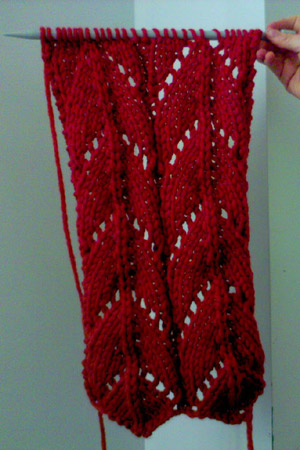 I cast off about 20 mins before the good (great) doctor called us in and had to resort to reading very bad magazines. Which was stupid because I had this in my bag but my mind was so fried by then I had forgotten.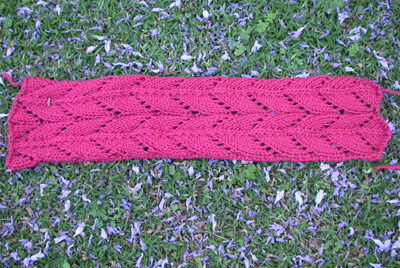 All it needs now is a little blocking and a really nice pin. And perhaps I might weave those ends…
* He was worth the wait, seriously worth the wait.
** So that Jesse could spread his gear out and get on line, yes, we are a sorry pair of geeks that can't leave home without a laptop and a mobile broadband connection.