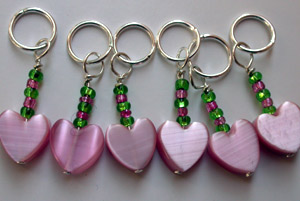 I made more stitch makers. These ones are mine, and there are two more sets the same, one for the stitch marker swap and one for posterity.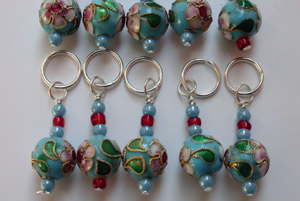 I also added these to my own collection. I don't know what I think I am going to do with all these markers, but they are just so pretty. Perhaps this is my way of making up for not wearing jewelry any more?
It's my birthday today and along with some lovely candles and CDs Jesse gave me 4 balls of delicious Debbie Bliss Wool Cotton in my favourite shade of pink (isn't he clever?). I can't tell you how badly I want to use this to cast on a pair of socks RIGHT NOW, it is so soft and so pink, it's calling me. However, according to Julia this yarn knits up like cotton, not like wool. I just don't think I want to knit my first pair of socks from cotton or something like it, due both to the knitting and the wearing. Common sense is telling me to stash this for later use as gorgeous baby gift.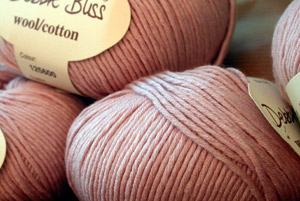 In the mean time I have nothing to knit. Yesterday I express posted all of my JS Aran Tweed swatches to Jo Sharp's studio, they seemed to feel that having a swatch that was on gauge would help their argument with the mill that something has changed. I feel Rogue slipping through my fingers. At best it is going to be a week before I can start Rogue, it may be a lot more, and I was hoping to be finished in a week or two. It will be well and truly spring by the time I am done if I knit it this year and as I am trying to believe that the IVF will work I am sincerely hoping to be pregnant next winter. It just feels a bit pointless knitting a sweater that I won' t get to wear for 2 years (and that is making the very large assumption that I will be roughly the same size in two years time). I have baby gifts to make, but can't quite stomach that right now, I have Christmas gifts to make but heck it's barely august. I just want to knit Rogue or socks and I don' t have yarn for either.
I have read all of Harry Potter and the Goblet of Fire in the last few days.