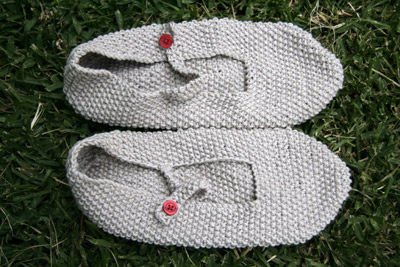 Pattern: Loosely based on the Moss Stitch Shoes from baby knits for beginners by Debbie Bliss. Different yarn, different gauge, different number of stitches, plus strap.
Yarn: Jo Sharp SoHo Summer DK Cotton in "Putty" #227
Needles: 3mm Addi circular (I think, it's a while since I actually did the knitting part)
These slippers are a quick knit, but moss stitch is rather unforgiving in a pure cotton. I am hoping that washing will even out the stitches a little and that they won't grow too much in the process as they are just the right size now. I should have washed them myself to find out, but time got away from me, so they will be gifted as is. I think I have done my dash with moss stitch shoes for now!