There is so much going on today I don't know where to start.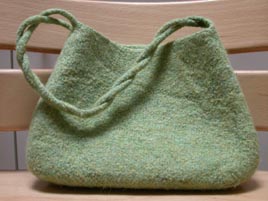 Pattern: Sophie Bag
Yarn: Cascade 220, colour #9407 (green)
Needles: 6.5mm/40cm Crystal Palace Bamboo Circular, 6.5mm Tulip Bamboo DPNs
Sophie is done and I have reorganised my gallery a little so that she will actually appear at the top of my FO list instead of the bottom. Following on from changing format of the FO page, I have also decided to fiddle about so that recurring projects like wash cloths could appear in both the "Finished Objects" and "On the Needles" lists. Speaking of wash cloths: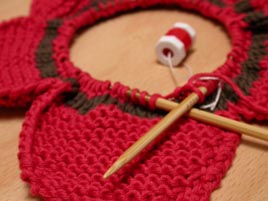 The Reverse Bloom Wash Cloth is progressing and I really do hope tonight will be my last night working on it. I think it will be pretty and I will be pleased to give it as a gift to someone but I don't know if I will be in a rush to make another one soon. I think the thing that is bothering me about the Reverse bloom Washcloth is that the knitting is very simple but the project is rather fiddly. It seems to me that 12 ends to weave into a wash cloth is about 10 too many. I have actually woven the ends already because on such a small project it was a real pain having them tangling up all the time.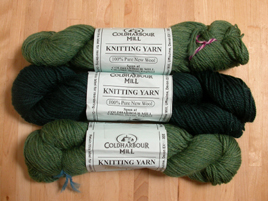 The ColdHarbour Mill Aran yarn I ordered has arrived and I am very happy with it. The colours are not what I expected, having far less blue in them than I anticipated but I am very happy none the less. The yarn is lovely and I am really looking forward to knitting it up!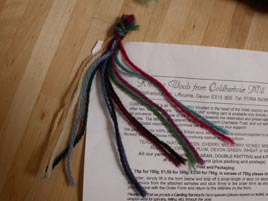 ColdHarbour also sent the colour card I requested. In keeping with their website which claims to be an internet store but has only the names of their yarn colours with no pictures (and requires that you call them to order but doesn't provide a phone number on the shop page), their colour card doesn't have names attached to the colours. So now I know there are lots of colours I like, but not what they are called. I can guess of course but what if I am wrong? I am not one of those people who is good at describing colours so I am quite worried about calling up and actually trying to sort out which colour is which over the phone…