I received two parcels last week from people I had made trades with for my stitch markers. Both of them sent back way more than we had agreed on, or than I could possibly have imagined. They also did a far nicer job of the packaging. When I post my knitted gifts I always take great care with the packaging. In fact the wrapping, card, packaging and post for the green scarf I sent my mother this month cost more than the yarn and beads. And yet for some reason I just haven't been as engrossed in the process of presenting my stitch markers nicely to the people I post them too. Perhaps it is because they are so tiny that they need to go into a zip look bag for fear of one of them disappearing. If you have received a set of markers from me in nothing more glamorous than a zip lock bag and a padded envelope please accept my apologies. Trading with these lovely ladies has pointed out the error of my ways.
Froggy agreed to send me a skein of Lambs Pride Worsted in Orange You Glad. This is what I found when I opened the parcel.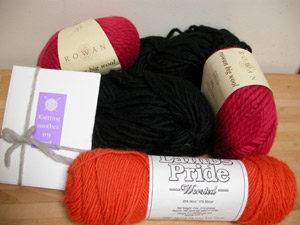 The Orange Lambs Pride is to go with some hot pink Cascade 220 that Cara sent me for some stitch markers months ago (Cara also sent twice as much yarn as she was supposed to btw). I am going to make a bag, or two. The rest is well, wow, I have no idea. I was thinking of using this gorgeous Rowan Big Wool to make Isabelle a hat.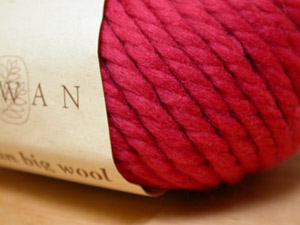 But given Isabelle's general reluctance to wear warm clothing I am swaying towards making a lovely scarf like Steph's for myself.
The second parcel came from Nikki, and I have to say receiving such beautiful markers made by someone else is just so much fun. It makes me even more excited about joining up for Anita's stitch marker swap. Nik sent twice the number of markers we discussed, packaged in this beautiful bag. I can't wait to start knitting on a needle smaller than the broomsticks required for the Debbie Bliss Cabled Jacket so that I can use them!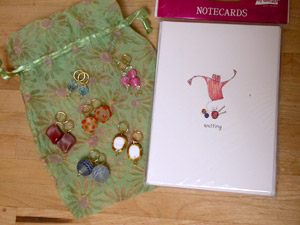 The knitting cards that both Nik, and Froggy sent are just too cute, I have never seen anything like them here in Australia and I have already sent one them off to another knitter. Thank you both for trading with me, your kindness really made my week.
And finally one more item to tie in with the stitch markers theme. I am a huge fan of using a row counter but I always knit on circulars and I just don't remember to turn the numbers unless it is actually attached to my knitting. Up until last week my inelegant solution to this problem was to hang the counter from a loop of string. I can't tell you how annoying this solution was, almost annoying enough to forgo the use of the row counter. I cut off that string and made this the very first chance I had after seeing Anita's very clever solution to this problem.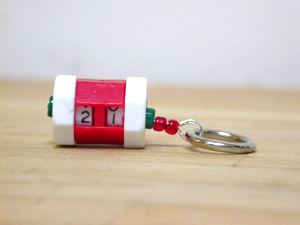 This, is much better. So thank you too Anita!