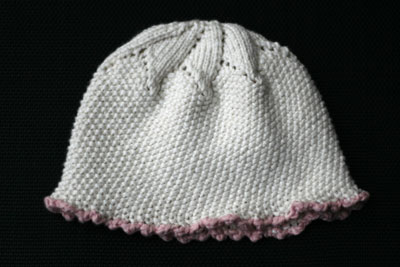 Pattern: Yvonne's Double Flower Cloth with some significant mods to make it a newborn baby sized hat
Yarn: Rowan Calmer in "Drift" with trim in "Powder Puff"
Needles: Addi Natura 3.25mm DPNs and circ
This was the last hat! It's been done for quite a while now, even photographed for quite some time. Jesse is in the middle of undertaking a major overhaul of our photo management software & processes, leaving me somewhat disabled when it comes to getting stuff off the camera. It took figuring out a temporary work around to get the quilt photos off the camera for me to realise that I didn't have to stop blogging just because I have no iphoto at the moment.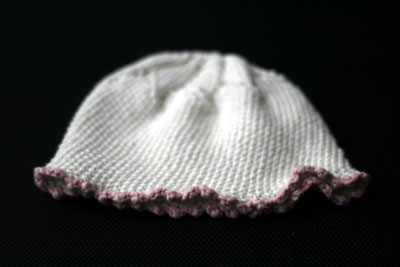 Anyway, back to this being the last hat. It's quite hard to believe that all my planned baby craft projects are done, harder still to believe that I am 33 weeks pregnant. A few of the babies that all this knitting is for have already been born, so little parcels have been making their way out into the world. But this is what my baby knitting drawer looked like the day I finished this hat.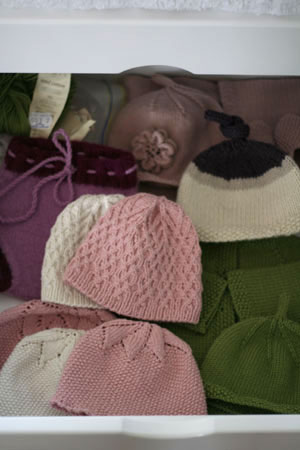 The only things missing from that drawer then were the first Baby Shedir, which had already been gifted and the Dolly Blanket, which is in hiding.
I had planned to reward myself with yarn for a baby blanket of some description once I got all of this done. But of course as soon as I cast off the hat I realised I had more gifts to make, for my midwife, OB and other carers… So now I am knitting another French Market Bag. Or not knitting it as the case may be. I went to bed before Isabelle last night and got up after her this morning. And I think I need a nap.
In the mean time Isabelle has been doing some amazing craft of her own.