Thankyou all for your kindness, it has meant so much to me, really. I am sorry I have been silent for so long but there just hasn't been much to say, well not about knitting anyway. I did knit three rows 9 days ago - hows that for scintillating knit blogging?
What I have been doing is recovering from the IVF, unpacking, enduring a little food poisoning, unpacking, trying to find a school for Isabelle (so that I can find a preshool), unpacking, fighting off some sort of nasty cold or flu, unpacking. You get the picture. Oh and having more blood tests, because you can never have too many blood draws you know. There is something about seeing new doctors that makes me drivel on like a lunatic, all the while trying (and failing) to at least be humorous since I can't seem to keep my mouth shut. It takes hours to recover from these little episodes. And this was just a garden variety family doctor that I will most likely never see again. Anyway not much time for knitting. But as the house begins to resemble a home I have begun to ponder when I might resume knitting and I am yet to come to a precise answer.
There have been goodies in the post this week, I am hoping they will provide some sort of inspiration or temptation. I am determined to finish the Spearfish socks but to be honest they aren't much fun, which is probably delaying my return to the needles. But just look at these irresistible goodies, I will have to finish my socks so I can play with the pretties! In the order that they appeared in my mail box.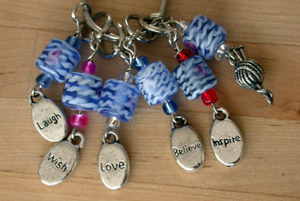 Markers from Jenifer, sent as part of the stitch marker swap, aren't the gorgeous? Just what I need right now.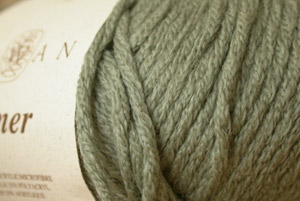 More Khaki Calmer in the right dyelot! I had to email every single internet distributor listed on the Rowan website to find it so I cannot tell you how happy I am! Sadly while I have been waiting for the yarn to finish Shedir a family member has been diagnosed with breast cancer and is currently waiting to find out if she will be needing chemo or not. This hat was meant for someone else but I will now be sending it to her and wishing that I wasn't. Not because I wouldn't love to make her hat, I just wish it weren't this hat, for this reason.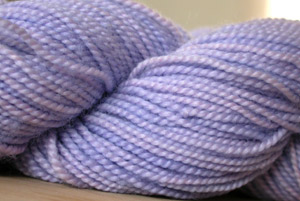 Koigu! Alison, who mentored me through my first real knitting project has yet again reached out from so far away to enable my knitting.
And finally does anybody know if there is some rule spammers have about spamming you more the less you post? I have been receiving an INSANE amount of spam the last week and I seem to recall a similar pattern in the past. Do the think that if we aren't posting we aren't moderating? Ugh.