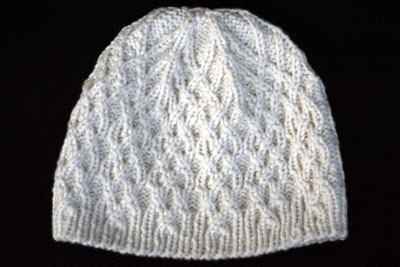 Pattern: Shedir - Knitty Fall 2004 Surprise, modified to fit a baby.
Yarn: Rowan Calmer in shade 460
Needles: 3.25mm Addi Natura circ and Addi Bamboo DPNs
It has to be said - this pattern is awesome. I may have a worrying tendency to knit the same thing again and again, but 5 times is pushing the limits even for me - this pattern is worth it! It also has to be said that I would rather knit it on a circular than DPNs any day. Circular needles are my friend, next time I break one and decide it doesn't need replacing can somebody please thump me? And while I am getting excited about patterns and needles - I think I am in love with Rowan Calmer, well certainly for baby hats. I was worried the white was a bit too nothing and yet this is my favourite Shedir so far! Could I be more chipper today?
The next mini flower hat is well underway and I am fabric shopping for quilt backings today…