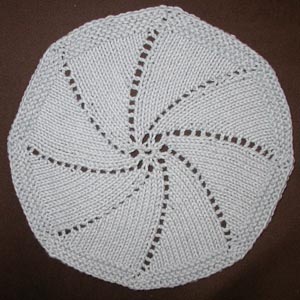 Pattern: Octagonal Swirl
Yarn: Cotton Fredom, colour #5 (pale blue)
Needles: 4mm Addi Bamboo DPNs, 4mm Tulip Bamboo circular
We were having a very bad day today, Isabelle and I. So bad in fact that I gave her a dose of homeopathic Chamomilla and went off to the doctor's to get my thyroid checked. The doctor's main advice was get back into the exercise and make sure you make time for activities you enjoy. I took her advice immediately to heart and went off to a yarn store to buy some more needles - a longer 4mm circular to finish off the above wash cloth and some 6.5mm DPNs to do the icord for my Booga Bag. And while I was at it I bought a couple of balls of cotton yarn, destined to become yet more wash cloths. I also had a look at some Heirloom Cashmino. I wasn't very impressed with the Heirloom 8 ply I used for the Phildar Baby Hoody but the Cashmino looked nice, it seemed like a decent substitute for Debbie Bliss Cashmerino, with the added bonus of more and better colours.
I had made it all the way to the garter stitch border on the wash cloth using DPNs but the combination of reaching 36 stitches per needle and my purl stitches being slightly looser on the needle was just bound to result in dropped stitches. The circular I bought was "Tulip" brand. It was cheap, which is just as well because it isn't very good - the needles were fine but the join was very snaggy. As it turned out the new 6.5mm DPNs came in very handy today as I used one of them to cast off the washcloth. Aren't I good, actually following the advice of my knitting teacher to always cast off with a bigger needle, usually a MUCH bigger needle to get a nice elastic edge. If I had been able to choose a slightly smaller needle I probably would have but the DPNS were the only larger needles I had with me at the time and it worked a treat. The washcloth has a few lumpy stitches but i think it will block out nicely.