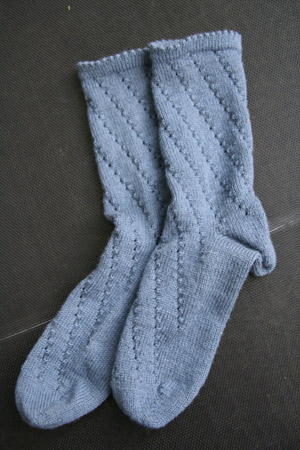 Pattern: Mata Hari Socks
Yarn: Patons Patonyle, shade #4303
Needles: Two 2.5mm Addi Circulars
I finished them last night. There will be more photos once they have been gifted - as modelled by the intended's feet, assuming they fit. Please let them fit. If you are thinking of making these socks - DO IT! They are so fun and considering how slow I have become since getting pregnant they are a fast knit. Go on, you know you want to.
Today is a good day. I feel organised and it makes me happy. All the postal christmas presents have been sent (and received). More than half of the parcels of baking have been distributed to the folks we won't see again before Christmas. All of the gift shopping is done, most of them are even wrapped, and about 90% of the grocery shopping is done too. So tomorrow, when it is 38c (100f) with gale force winds, we will have almost nothing to do except hide from the heat and hopefully catch up with a few friends.
The other thing that makes today a great day is that I am ten weeks pregnant today - and for all that I am sick and tired ALL the time I finally feel confident it will stick - which is the best christmas present of all.
Happy Holidays to you all!