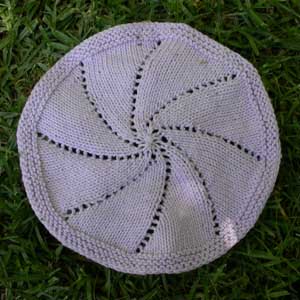 Pattern: Octagonal Swirl
Yarn: Heirloom Cotton in a pale lilac
Needles: 4mm Addi Bamboo DPNs, 4mm Tulip Bamboo circular
Picture me agonising over how best to get needles past airport security and then picture me working incredibly hard not to look both smug and guilty as I stood in front of them on the other side trying to shove my laptop back into my over stuffed bag. Hiding a pack of bamboo DPNs into a pocket already overflowing with pens and pencils works a treat. I guess future plane flights will be a good time to work on socks!
This is my last christmas wash cloth and I knit well over half of it on the flight to Adelaide. I finished the rest driving around to see people when we arrived and then cast off after dinner the same day. I seem to have knit the two stitches on the second or third needle in the wrong order in the first row causing a twist at the center. I choose to think of this as a feature not a bug.
Comments Off